Inner Strength: The Free Mental Attitude in Acem Meditation (Book+CD)
The best introduction to the long-term processes of Acem Meditation, in a discounted book and CD package.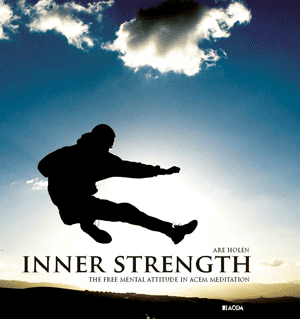 Produkttype

Bok

Språk

Engelsk

Pris
by Are Holen, 2nd Edition
On its publication in 2000, Inner Strength was the first Acem book in English. It is still the best available introduction to the long-term processes of Acem Meditation. In this volume, Dr Holen discusses the importance of the free mental attitude. He explains how to cultivate and maintain a free mental attitude while meditating and suggests the kinds of change that this can bring about.
This edition of the book is in a handy format and has been completely redesigned with beautiful illustrations. It also includes some new text.
The audio CD under the same title may be used as a companion to the book. The book and the CD cover much of the same ground, but often look at the topics from different angles.
From the audio CD:
"As we give the unconscious greater and greater freedom through meditation, more and more undercurrents of the mind surface in order to become a part of the conscious mind. This process represents a more profound form of integration that brings together different and often opposing parts of ourselves. It is a process that revivifies dormant parts of the self in order to unite them with the conscious self."
Book contents:
Acem Meditation • The free mental attitude • The meditation sound • The moment of forgetting • Existential responsibility • No effort – Nature of meditation problems • Concentration • Perfection not the goal • Meditation and daily life • Forgetting the meditation sound • Accept and include • Wrestling with restlessness • No expectations • Ethics and honesty • Residuals from the day